We are featured on the Community Wiki's "Entertainment Wikis" section! This will surely help this wiki get more traffic. Speaking of this wiki, I haven't been able to contribute too much to it lately due to other wikis and real life problems, but I'll try to be a bit more active now and help clean up pages, fix their grammar, etc. I'm still on the quest to adopt this wiki.
I have noticed there is a bit of swearing going on around the wiki, and to make it clear: swearing is not allowed. Words like "damn," "damnit," "crap" and "ass" are allowed, however. I am also requesting a wiki logo, background and favicon soon. So, yeah, that's all. With that being said, here's a picture of our feature on the "Entertainment" section of the Community Wiki.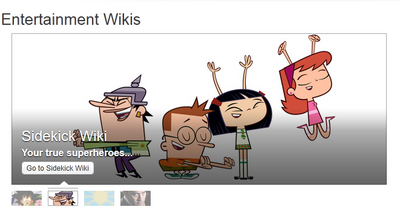 ~ CD-TDA
Community content is available under
CC-BY-SA
unless otherwise noted.