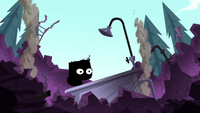 Heat Ray vision, X-Ray vision. This hero stuff is kinda tricky.
This page needs cleanup.
This page needs maitenance. You can help by improving the page's grammar and sentence structure or fix the article layout to bring it to a higher standard of article quality.
See the Manual of Style for how articles should be organized. Remove this template when finished.
"You're going to complete this now!"
This article or section is incomplete.
Some information is missing regarding to the subject. Help Sidekick Wiki by finishing the article. Remove this template when finished.
This article or section is a stub, which means that this article needs some more information. You can help by expanding it.
---
The Amazing Super Chores

105-5a

CAN.Airdate

September 25th, 2010

USA. Airdate

June 17th, 2011

Producer(s)

Director(s)

Storyboard Artist(s)

Writer(s)

Grant Sauve

Antagonist(s)

Ribbonaur

Previous:

Paired with:
Eric fails at his super-chores.
Plot
Cast
Main
Minor
Quotes
Trivia
There was a reference to Iron Man when Eric said: "I am Ironing Man!"
The title is a parody of The Amazing Spider-Man.
Goofs
Gallery
Video