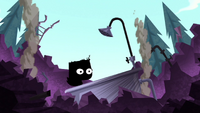 Heat Ray vision. X-Ray vision. This heroic stuff is kinda tricky.
This page needs cleanup.
This page needs maitenance. You can help by improving the page's grammar and sentence structure or fix the article layout to bring it to a higher standard of article quality.
See the Manual of Style for how articles should be organized. Remove this template when finished.
Maxum Mom

(105-5b)




CAN.Airdate:

September 25th, 2010

U.S Airdate:

June 17th, 2011

Producer(s)

Michael Decsi

Director(s)

Joey So

Storyboard Artist(s)

Ted Collyer

Writer(s)

Antogonist(s)

Paired with/Previous:

Next:
Summary
It's super mother's day and Maxum Mom wants to spend it with her son, Maxum Man. She doesn't know that he's missing, so Eric tries to pose as Maxum Man to keep Maxum Mom happy. But when they go to brunch, Master XOX tries everything to get rid of Maxum Man.
Plot
Cast
Main Roles
Supporting Roles
Quotes
Trivia
Maxum Mom make a first appearence
Maxum Mom has a tattoo of Butterfly on the Hip
Goofs
Gallery
Video