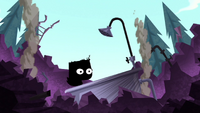 Heat Ray vision. X-Ray vision. This heroic stuff is kinda tricky.
This page needs cleanup.
This page needs maitenance. You can help by improving the page's grammar and sentence structure or fix the article layout to bring it to a higher standard of article quality.
See the Manual of Style for how articles should be organized. Remove this template when finished.
Ice to Know You

(116-16b)




CAN. Airdate:

December 11th, 2010

U.S. Airdate:

July 5th, 2011

Producer(s)

Micheal Decsi

Director(s)

Joey So

Storyboard Artist(s)

No information

Writer(s)

No information

Antogonist(s)

None

Previous:

Next:
Summary
Eric and Trevor use a device to make it winter to cool down in the summer. But when it turns into a problem, Eric, Trevor, Kitty and Vana have to make it summer again .
Plot
"You're going complete this NOW!"
This article or section is incomplete.
Some information is missing regarding to the subject. Help Sidekick Wiki by finishing the article. Remove this template when finished.
Cast
Quotes
Don't touch that.
Don't destroy the world with that.
Don't reverse the space time continuum with that.
Don't start the final countdown on that.
Trivia
This is kind like a second Christmas episode.
This episode aired the day after Independence Day and Canada Day.
This episode is very similar to the Phineas and Ferb episode "S'Winter", where Phineas and Ferb make winter in summer.
Goofs
When Vana pulls the switch of the Maxumsled. She was in her winter clothing. A minute later, she was in her regular clothing.
Gallery
Video